The year 2020 was a good year for CS:GO Gambling Sites after two horrible years of bans and restrictions. The biggest CS:GO Gambling Sites figured out how to make skin withdraw possible again after the tradehold update and other anti-gambling-updates from Valve. The CSGOHowl team analyzed all big CS:GO Gambling Sites that still offered their services in 2020 and we now have an accurate list of the best gambling sites for CS:GO skin gambling in 2021.


The Top 3 CS:GO Gambling Sites in 2021
CSGOFast.com – The best CS:GO Gambling Site in 2021
CSGOFast is the winner and the best site for CS:GO Gambling in 2021 in our opinion. We think that CSGOFast deserves to win this because they have one of the best support teams ever, they have a really good store where you don't have to wait for any items and they offer lots of different game modes to play.
CSGOFast offers Roulette, Jackpot, Crash, Betting and Case Opening which are basically the five biggest and most interesting games for CS:GO Gambling. The site also offers lots of cool single-player games like Craft, Tower and Slots.
The skin store of CSGOFast is just straight up over 20 pages of 36 beautiful skins each page in a 10$ to 1500$ price range. All skins will get directly sent to you in under 15 minutes, no waiting for up to 8 days like on CSGOEmpire.
+ Big skin store for withdraw
+ Instant withdraw
+ Lots of different games
+ Great support
+ Active community
+ Available in lots of different languages
+ Bitcoin withdraws
– Not easy to use
– Very bad translations
– Nearly never hosting giveaways
Check out CSGOFast.com

Use code 5VO75A-CSGO to get 1$ for free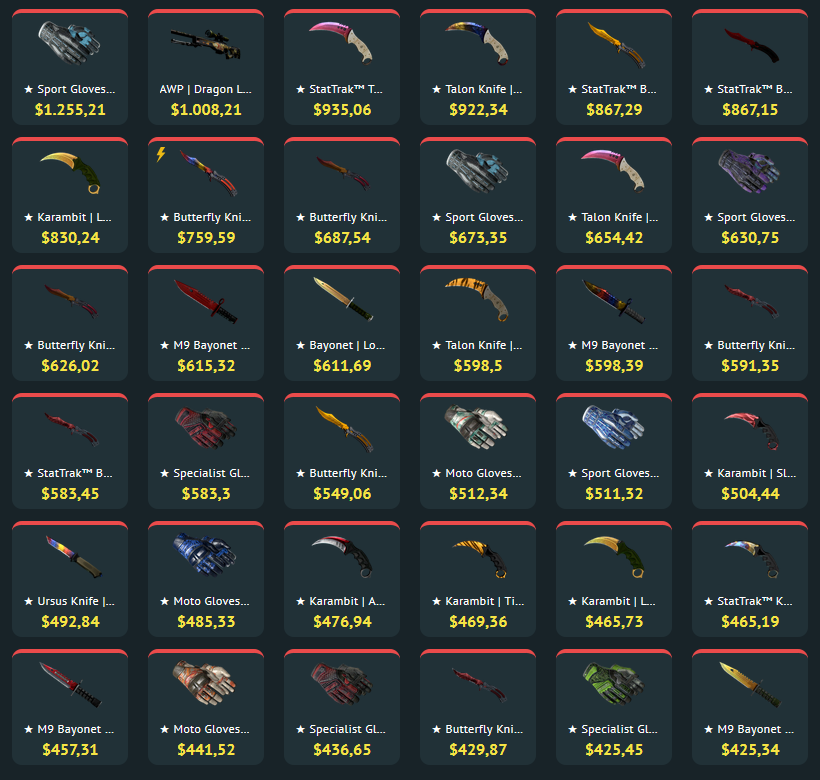 CSGO500 – Best looking CS:GO Gambling Site
CSGO500 is probably the CS:GO Gambling site with the coolest and most interesting design. The site is designed by using two colors, a nice red and a dark grey color. Those colors give the site a unique look which really sets it apart from most gambling sites out there. CSGO500 also has a really cool game mode which is the x50 Roulette. The x50 game works like this: You can bet on grey, red, blue or gold. Grey is *2, red is *3, blue is *5 and gold is *50. This game is really interesting because you can play with very high risk (gold) and very low risk (grey) or with something in between (red, blue).

CSGO500 also offers a 4 player Jackpot game and a normal Crash game. Another good thing that they offer is the daily reward, which gets you free coins. The more you play on CSGO500, the higher your level gets and with a higher level your daily reward increases. The withdraw section of CSGO500 is also really good, you can withdraw some skins instant and lots of skins in the "CS:GO Tradelocked" store. If you can wait to get your items, you can get nearly any skin over 70$ up to a Dragon Lore FN.
The problem with CSGOEmpire
Normally CSGOEmpire would be the best CS:GO Gambling Site for 2021, but they had one really huge problem which made them lose so much ranking, that they ended up out of our Top 3. The problem that CSGOEmpire had was that their affiliate system wasn't working for over a month. Because of that new players couldn't get any free coins to test out the site, which is really bad in our opinion.
Our homepage is always up to date when it comes to listing the best CS:GO gambling sites in 2020. Check out CSGOHowl.com to find the best site for you.