List of CS:GO Marketplaces for buying/selling skins
| Marketplace | Withdraw Options | Deposit Options | Sell Fee | Rating |
| --- | --- | --- | --- | --- |
| Skinbay | Paypal, Crypto, Bank Transfer | Paypal, Crypto, G2A Pay, Credit Card | 5%-10% | ★★★★★ |
| Skinbaron | Paypal, Bitcoin, Bank Transfer | Paypal, Paysafecard, Bank Transfer, G2A Pay, Bitcoin | 15% | ★★★★ |
| Bitskins | Paypal, Crypto, Skrill | Paypal, Crypto, G2A Pay, Skrill | 4,8%-5% | ★★★★ |
| Lootbear | Paypal | Paypal, Crypto | 0% | ★★★ |
| cs.money | Other skins | Skrill, QIWI, PayPal, Credit Cards, G2A Pay | 5-20% | ★★★ |
Where and how to buy CS:GO skins
Buying or selling CS:GO skins isn't always easy. If you buy from other players on steam, they will most likely scam you. If you buy from the steam community market, the prices are going to be really high and you can't see the float value (how scratched the skin is). So how can you buy skins that are cheap, safe and have a good float value? The solution for your problem is using third party marketplaces for CS:GO skins. Third party marketplaces enable you to sell your CS:GO skins for real money or buy CS:GO skins for money. The offer different methods to add funds to your account and buy skins. Most third party market places offer PayPal deposits, Crypto deposits and credit card deposits. You can also withdraw your money using the different options (PayPal, Bitcoin, bank transfer).



Can I buy CS:GO skins with PayPal?
Yes, on most marketplaces you can buy CS:GO skins with PayPal. You can add funds to your steam account and buy on the steam community market or you can use a third party market place where you will get the skins way cheaper. If you want to buy skins using PayPal, we suggest you to use Skinbay.
Skinbay is a third party marketplace that is very trusted in the scene, it has a very good support and the skins are cheap. We suggest you to use Skinbay if you are new to buying/selling skins, because Skinbay is really easy to use. You are going to find everything you need instant and if you have any problems, their support answers in a couple of minutes. Other sites that accept PayPal as a payment method are Skinbaron, Lootbear and Bitskins. You can also use cs.money, this site gives you a 30% deposit bonus if you deposit over PayPal.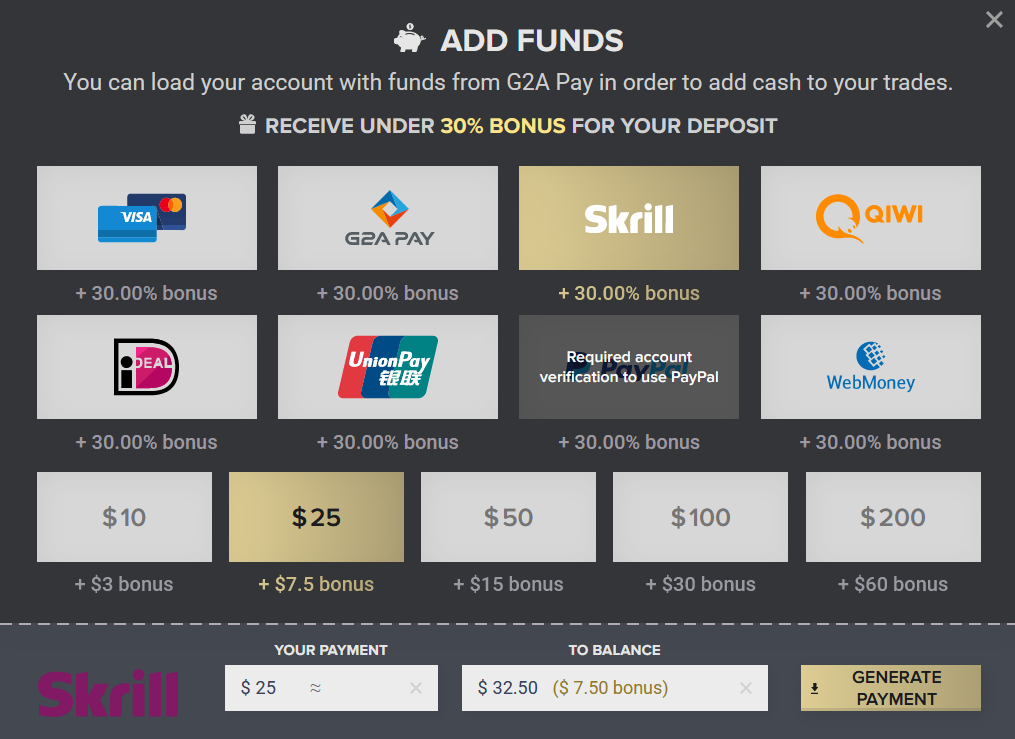 What site should I use to sell/buy my CS:GO skins?
What site you personally should use depends on your location.
If you are not from the EU you should use BitSkins or Lootbear, best is BitSkins because it is just a really international marketplace for every country. BitSkins uses USD ($) as a currency and is really known for having every skin in the world for a cheap price. When you sell skins you only pay a 5% sales fee which is also pretty low and good if you want to sell skins.
"But Lootbear has a 0% sales fee why shouldn't I use Lootbear instead?"
That is a good question, but the answer is really simple: You shouldn't use Lootbear because the Lootbear system is really bad and your skin is not going to get sold if you aren't extremly lucky or sell your item for a really bad and low price. On Bitskins your item is going to get sold quickly and you are most likely to sell it for a good price. Lootbear is only good if you are looking for a place to rent skins.
I am from the EU, which site should I use?
If you are from the EU, you should use Skinbay or SkinBaron. Those sites use EUR (€) as a currency and the sales fees are also pretty low (5%). If you are looking to sell skins you can withdraw your money directly to your bank account over bank transfer and the money is going to be on your bank account within the next 2 days. You don't have to pay any transaction fees and you don't have to pay any fees for exchanging USD to EUR. You can also select your own language on the site, Skinbay supports german, russian and english; Skinbaron supports german, english, french and polish.
Best places to buy CS:GO skins for EU and other countries
EU: Skinbay, SkinBaron (Lootbear, cs.money and Bitskins also possible, but not good)

Not EU: Bitskins, cs.money (Skinbay, SkinBaron and Lootbear possible)