CS:GO Case Opening Sites are a way to open cases and get CS:GO skins outside of CS:GO. The odds to get good skins or a knife are way higher than on regular CS:GO cases. If you open a case in the game, you will always need a key. One key costs around 2,50$ which is really expensive. You will most likely get a skin that is worth around 0,50$ out of it. On CS:GO Case Opening Sites, you can open cases for 0,30$ up to 200$ for very high tier skins. For example you can open a case that will give you a 100% chance to get a knife for 79,99$ on Farmskins or for 67$ on Hellcase. The only problem is that some CS:GO Case Opening Sites don't show the odds which makes it hard to choose if you want to open a case or not. Overall you will still get better skins if you use Case Opening Sites instead of the official cases in CS:GO.

What are the best CS:GO Case Opening Sites


| Case Opening Site | Description | Bonus Code | Games | Rating |
| --- | --- | --- | --- | --- |
| CSGORoll | CSGORoll is a provably fair CS:GO Game Site that offers CS:GO skin withdraws! | CSGOHowl | Case Opening, Case Battles and more | ★★★★★ |
| DatDrop | DatDrop is a nice CS:GO Case Opening site with skin and Crypto withdraw! | csgohowl | Case Opening | ★★★★ |
| CSGOLuck | CSGOLuck is a new CS:GO Gambling that also offers Case Opening | CSGOHOWL | Case Opening, Crash, Roulette | ★★★★ |
| Farmskins | CS:GO Case Opening site with skin withdraw. Not provably fair! | CSGOHowl | Case Opening | ★★★ |
| Hellcase | Biggest Case Opening site with many other games | csgohowl | Case Opening, Upgrade, Battles | ★★★ |
| Daddyskins | Case Opening Site with deposit bonus | csgohowlcom | Case Opening | ★★★ |
Data from CSGOJoker shows, that CS:GO players think DatDrop is the best CS:GO Case Opening Site. On average DatDrop got around 20 more upvotes than CSGORoll every month. However, we still think that CSGORoll is the best CS:GO Case Opening Site because it accepts customers from the US, offers instant skin withdraw, offers a free case for everyone and daily free cases for high level players. Moreover, they always offer cool special giveaways for holidays like Christmas, Easter, Halloween and so on.
Are Case Opening Sites legal?
Yes, most CS:GO Case Opening Sites are legal. However, some countries have classified Case Opening as gambling and therefore it is banned in some countries.
Always make sure that the site you want to play on is trusted. You can check if a site is trusted by reading their trustpilot reviews, reading their TOS and finding out more about the responsible company. If you don't know which company owns the site, it is most likely a scam. Most Case Opening Sites mention the company that runs and owns them in their footer, terms of service or contact page.
House edge on CS:GO Case Opening Sites
The house edge on most Case Opening Sites is very high. This means that you lose lots of money when you open cases on a Case Opening Site. However, you are still going to get a better return than you get when opening official cases in CS:GO. We found that DatDrop and CSGORoll have a very fair house edge of 5% – 10% on most cases. This means that you expect to get $90 to $95 back when opening a $100 case. Other sites like Hellcase and Farmskins have way worse house edges. You can expect a 30% house edge, sometimes up to 50% on Hellcase and Farmskins. This means that you only get around $50 to $70 back when you spend $100 on cases on those sites.
Some players think they get really good skins when they open cases on Hellcase. But that's not really true. Hellcase overprices items on their site to make sure that users lose money on every case they open. The real price is way lower than the price shown. Here are some examples of overpriced Hellcase skins:

The problem with Farmskins is that Farmskins is not provably fair. Furthermore, they don't show any odds for the skins in their cases. This means that you don't know if you have a good or bad chance to get a specific skin out of a case. Moreover, this makes it impossible to find out the exact house edge of a case, because you don't have the necessary information to calculate the house edge. The owner of CSGOEmpire, a trusted CS:GO Gambling Site, has called this out many times. Farmskins didn't comment on the accusations yet.
CSGORoll
CSGORoll is a very trustworthy Case Opening Site. It is the best provably fair Case Opening Site. They have a huge P2P marketplace for their skins, they offer instant skin deposits and withdraws. Also, CSGORoll offers a huge selection of cases in many different price categories. Another great aspect of the site is they show the odds for their cases which means you know how much of a chance you have to get the best skin out of the case.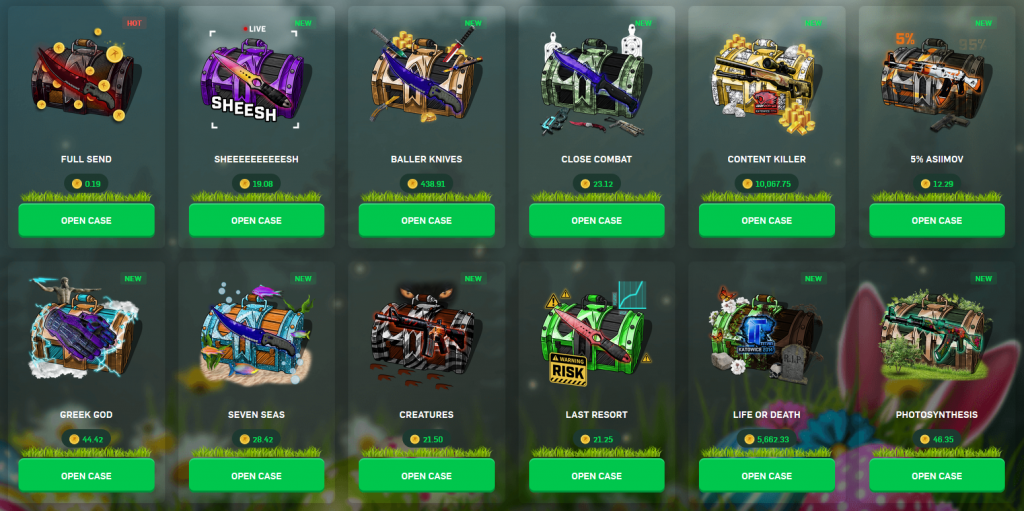 Farmskins
Farmskins is one of the worst sites that we have ever played on. The site has decent cases, but the cases are really expensive and you can't see any odds for the skins in the case. They give you lots of options to fill up your balance but you can only withdraw skins to your Steam inventory. There are no other ways to withdraw your winnings. If the skin isn't available at the moment, you can swap it for other CS:GO skins. They give you 1$ for free if you use a promo code like our code "CSGOHowl". One of the biggest negative aspects of Farmskins is that the site is not provably fair. This means that the site can't prove that the outcomes of their case openings aren't rigged. We always recommend using provably fair Case Opening Sites so that you have the best chances to get a good item.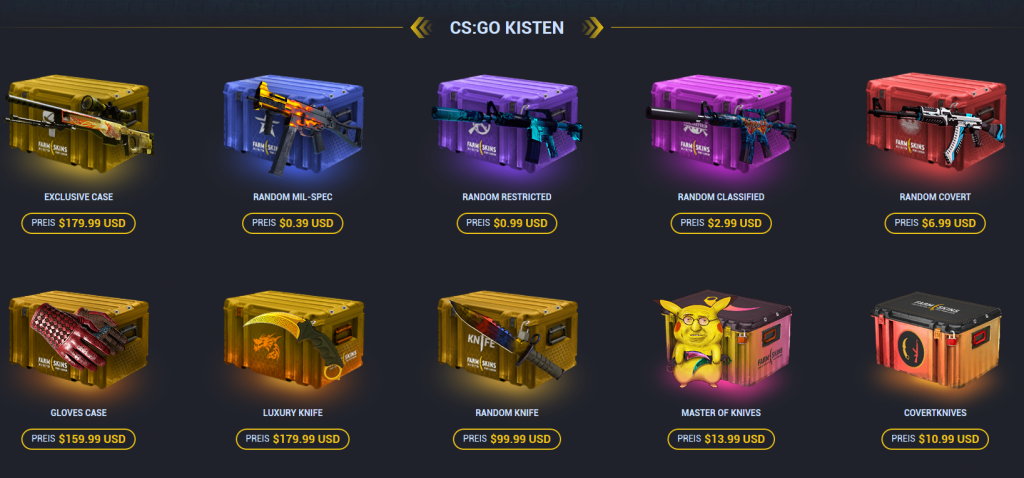 Hellcase
Hellcase is the most well-known Case Opening site with many different game modes. You can open many different cases in different price categories. There's a case battle game mode in which you can enter different Case Opening Battles. You open cases against someone else and whoever unboxes the more valuable items wins the game. Other game modes on Hellcase are Upgrade and Trade-Up Contract. Both of these modes allow you to upgrade the skins you have won on the site. One very important aspect of Hellcase is its fairness. The site is provably fair and they also show the odds for their cases. On the other hand, Hellcase overprices their skins (almost 30% more than the actual price) which is really fishy and makes you lose money when opening cases on the site.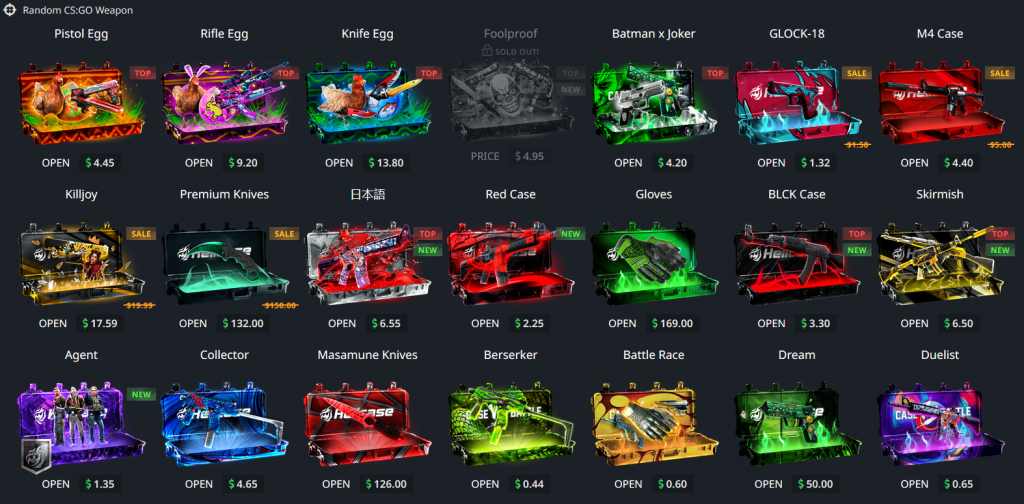 Open free Cases on CS:GO Case Opening Sites
Many players want to know where they can open CS:GO cases for free. Currently, there are three sites that offer a free CS:GO case: CSGOEmpire, CSGORoll, CSGOLuck. You can open one case for free on every site mentioned by using our code. Our code is "CSGOHOWL" on CSGOLuck and CSGORoll and "csgohowlcom" on CSGOEmpire. You can actually get a Dragon Lore for free in the CS:GO case on CSGOEmpire. However, this only works for new players. If you have opened the case already, you can't open it again.
Daily free CS:GO Cases
CSGORoll and CSGOLuck offer unlimited daily free CS:GO cases for their players. However, you have to place bets and level up first, which means they are not 100% free. You will lose some money playing to reach a high level but after that the cases are free and you can open them daily. Below you can see an example of the daily free cases that you can open on CSGORoll: