CS:GO Case Opening Sites are a way to open cases and get CS:GO skins outside of CS:GO. The odds to get good skins or a knife are way higher than on regular CS:GO cases. If you open a case in the game, you will always need a key. One key costs around 2,50$ which is really expensive. You will most likely get a skin that is worth around 0,50$ out of it. On CS:GO Case Opening Sites, you can open cases for 0,30$ up to 200$ for very high tier skins. For example you can open a case that will give you a 100% chance to get a knife for 79,99$ on Farmskins or for 67$ on Hellcase. The only problem is that some CS:GO Case Opening Sites don't show the odds which makes it hard to choose if you want to open a case or not. Overall you will still get better skins if you use Case Opening Sites instead of the official cases in CS:GO.

What are the best Case Opening Sites


| Case Opening Site | Description | Bonus Code | Games | Rating |
| --- | --- | --- | --- | --- |
| Farmskins | Best CS:GO Case Opening site with skin and Crypto withdraw! | CSGOHowl | Case Opening | ★★★★★ |
| Hellcase | Biggest Case Opening site with many other games | csgohowl | Case Opening, Upgrade, Battles | ★★★★ |
| CSGOFast | Only some cases to open but many other games | 5VO75A-CSGO | Case Opening, Roulette, Crash | ★★★★ |
| Daddyskins | Case Opening Site with deposit bonus | csgohowlcom | Case Opening | ★★★ |
CSGORoll
CSGORoll is a very trustworthy case opening site. It is the best provably fair case opening site. They have a huge P2P marketplace for their skins, they offer instant skin deposit and withdraws. Also, CSGORoll offers a huge selection of cases in many different price categories. Another great aspect of the site is they show the odds for their cases which means you know how much of a chance you have to get the best skin out of the case.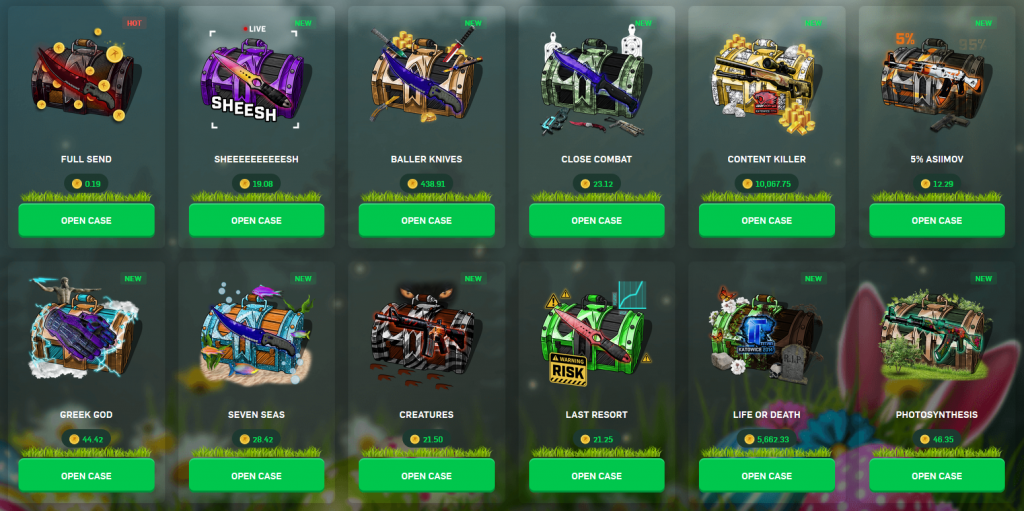 Farmskins
Farmskins is surely one of the nicest sites that we have ever played on. The site has very good cases, some of them give you a good chance to get nice skins and they have very fair prices. They give you lots of options to fill up your balance and you can withdraw the skins to your steam inventory after some days. If the skin isn't available at the moment, you can swap it for other CS:GO skins or you can withdraw in Bitcoin if you want. They give you 1$ for free if you use a promocode like our code "CSGOHowl". One of the negative aspects of Farmskins however is that the site is not provably fair. This means that the site can't prove that the outcomes of their case openings aren't rigged. We always recommend using provably fair case opening sites so that you have the best chance of earning rewards.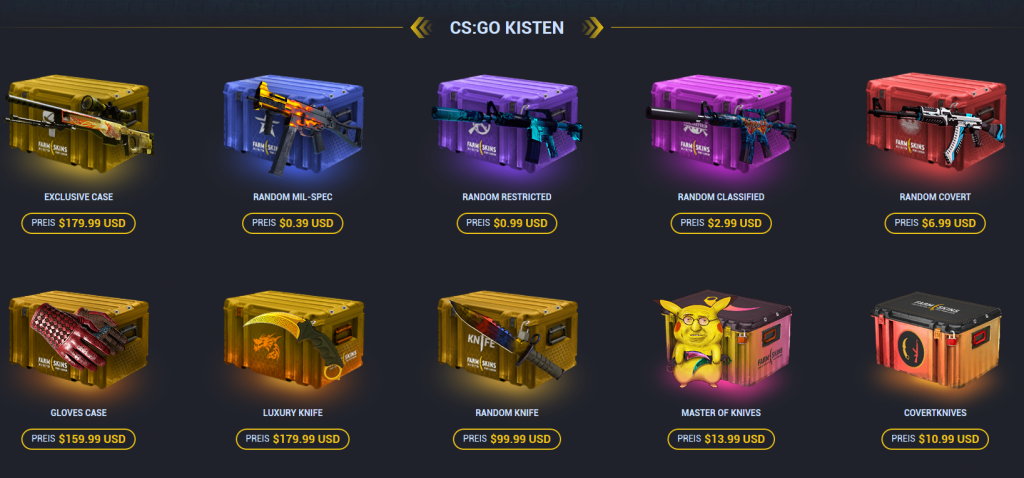 Hellcase
Hellcase is a nice case opening site with many different game modes. You can open many different cases in different price categories. There's a case battle game mode in which you can enter different case opening battles. You open cases against someone else and whoever opens the more valuable items, wins the game. Other game modes on Hellcase are Upgrade and Trade-Up Contract. Both of these modes allow you to upgrade the skins you have won on the site. One very important aspect of Hellcase is it's fairness. The site is provably fair and they also show the odds for their cases.