All you need to know about CS:GO Crash
CS:GO Crash is a nice gamemode that you can play on lots of different CS:GO gambling sites out there. The biggest sites like CSGOFast, Gamdom, Wtfskins and CSGO500 offer this gamemode. Basically you just deposit your skins on the website and get coins for the value of your skins. You can bet the coins on a rising graph, the graph shows a multiplier that increases with the graph. If you press the "Cashout" button on the site, you win your coins multiplied with the amount of coins that you had bet in the round.

A quick example: You bet 100 coins (1$) and the graph goes up to 2.27 and you press "Cashout". You now get 227 coins which means a profit of +117 with a 100 coin bet. If the graph crashes before you cashout you will lose the 100 coins.

Most sites offer a provably fair system for their crash gamemode so you can prove, that the game is not rigged and you have a fair chance to win some money. No one knows how high the house edge is on Crash games but we assume that the house edge is around 5 – 15% so around the same as in Roulette gamemodes.

| Crash Site | Description | Bonus Coins Code | Games | Rating |
| --- | --- | --- | --- | --- |
| Duelbits | Nice CSGO Crash Site with a rocket animation | csgohowl | Crash, Roulette, Slots | ★★★★★ |
| CSGO500 | Simple and fun Crash game | CSGOHOWLCOM | Crash, Roulette | ★★★★★ |
| CSGOLuck | CSGOLuck is a new CS:GO Gambling that also offers Crash | CSGOHOWL | Crash, Roulette, Case Opening | ★★★★ |
| Gamdom | Popular site with many games | csgohowlcom | Crash, Roulette, Jackpot | ★★★★ |
| CSGOFast | Crash game in CS:GO bomb style | 5VO75A-CSGO | Crash, Roulette, Jackpot | ★★★ |
| WTFSkins | Cool looking Roulette site | csgohowlcom | Crash, Roulette, Jackpot | ★★★ |
How to profit on Crash Sites
The Martingale betting method
We already explained this method on our CSGO Roulette Sites page but we will explain it again on this site. The strategy is very easy to use: You start betting with a low start bet (for example 0.10$) and you wait until the multiplier goes to 2 and then you cashout. If the multiplier goes up to 2 and you cashout you win 10 cents. In case it crashes before, you double your bet so you bet 0.20$ next. If you win now, you have 0.40$ so again your profit is 0.10$ because you lost that 0.10$ bet before.
This method is a very safe way to get some profit but the profit is low because you have to bet low to make it safe.
The big bets
This method is very very risky but it can give you a nice amount of profit. For example if you have 100$ to bet with and you want to get to 110$ you just bet 100$ on Crash once and cashout at 1.1 multiplier. If you want to get to 150$ you cashout at 1.5 multiplier etc.
The lower the multiplier the lower your risk and profit, the higher the multiplier the higher your risk and profit.
The high multiplier hope
This method is for players with low budget. You basically start with 0.10$ bets and you wait for the crash multiplier to go over 10 (or 5 or 100 or 20). To start you can choose any number for the multiplier that you like as long as it is high and you stick with it. You bet again and again and whenever you hit your multiplier you stop gambling and run away with your profit.
Why are CS:GO Crash sites so much fun?
CS:GO Crash is my favourite gamemode for sure. The nice feeling when you manage to cashout at the right point or maybe just seconds before the graph crashes is just too nice. Also the adrenaline rush when the multiplier starts to rise really really fast and goes really high is unique in gambling. It really is just one of the most hyped and exciting gamemodes in all of csgo gambling. You should really try it yourself, you will not regret it. However, you should only play with money and skins you can afford to lose. CS:GO Gambling can be really addicting and you should always avoid addiction.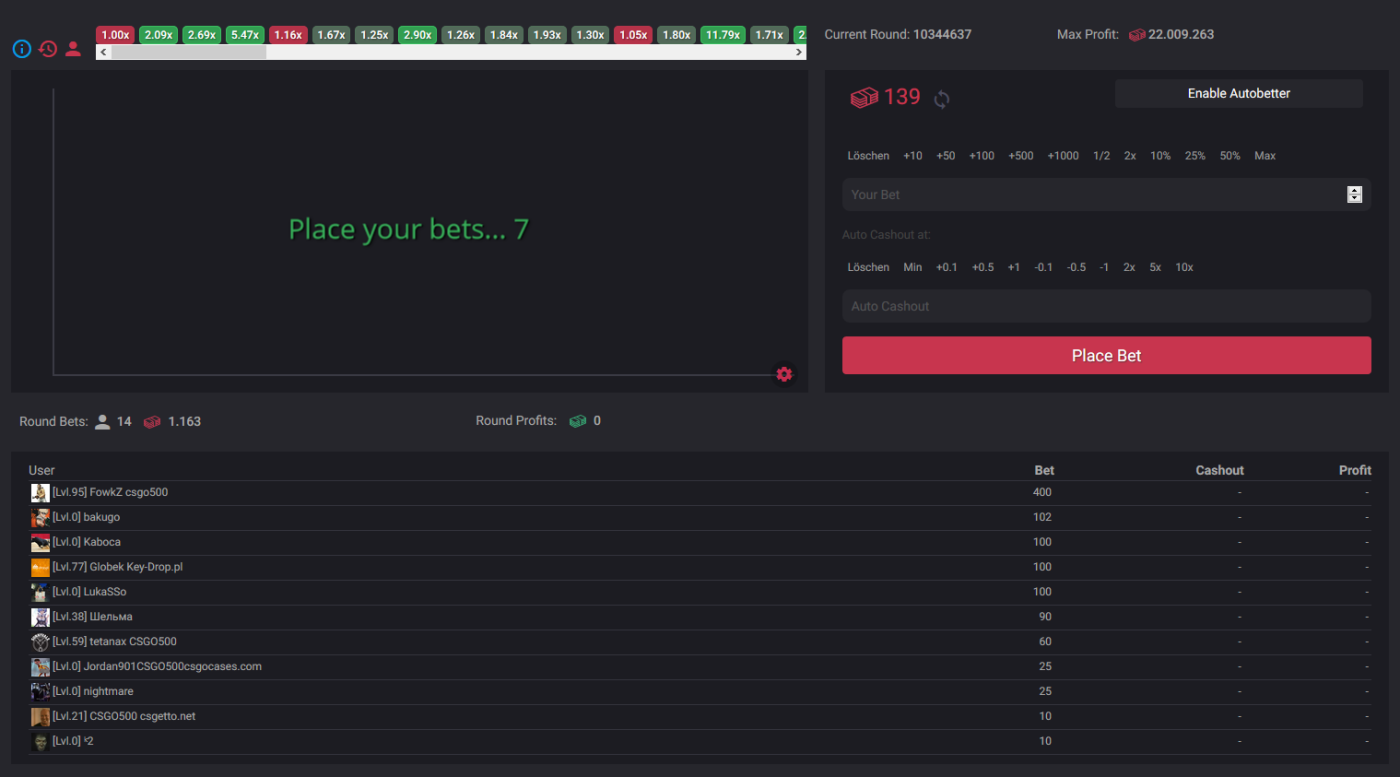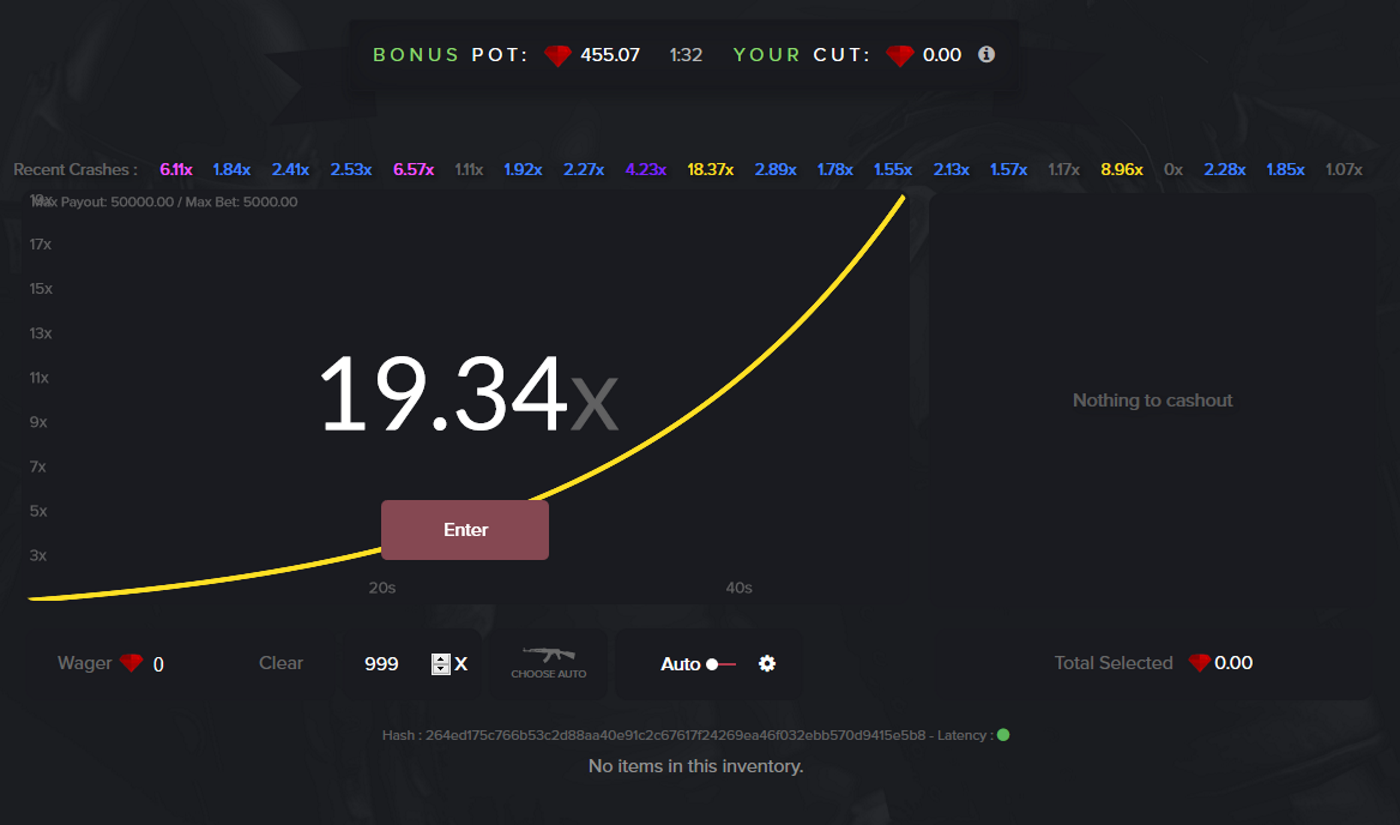 You are reading the CSGOHowl.com page about CS:GO Crash sites and CS:GO Crash gambling. All links on this page are affiliate links. Use our codes to support CSGOHowl.