In this guide we will show you how to level up on Steam for free and how to level up fast on Steam. Steam is a platform where you can buy games, but it also has customizable Steam Community profiles, that you can level up. If you level up your steam profile, you will unlock new infoboxes, screenshot display options and much more. Most gamers would like to level up their steam profile but they don't know how. So in this guide CSGOHowl is going to show you how to level up:
How to level up your profile for free
First Step: Go to your steam community profile

Click on your level on the right side, if you are Level 0 you can get to Level 5 by completing the "Community" tasks. They are very easy for example you have to add a friend, watch a broadcast, make a trade, comment on someones profile, join a group and so on. If you complete 27 of 28 tasks, you will get 500 XP which will bring you from Level 0 to Level 5 or from 5 to 10.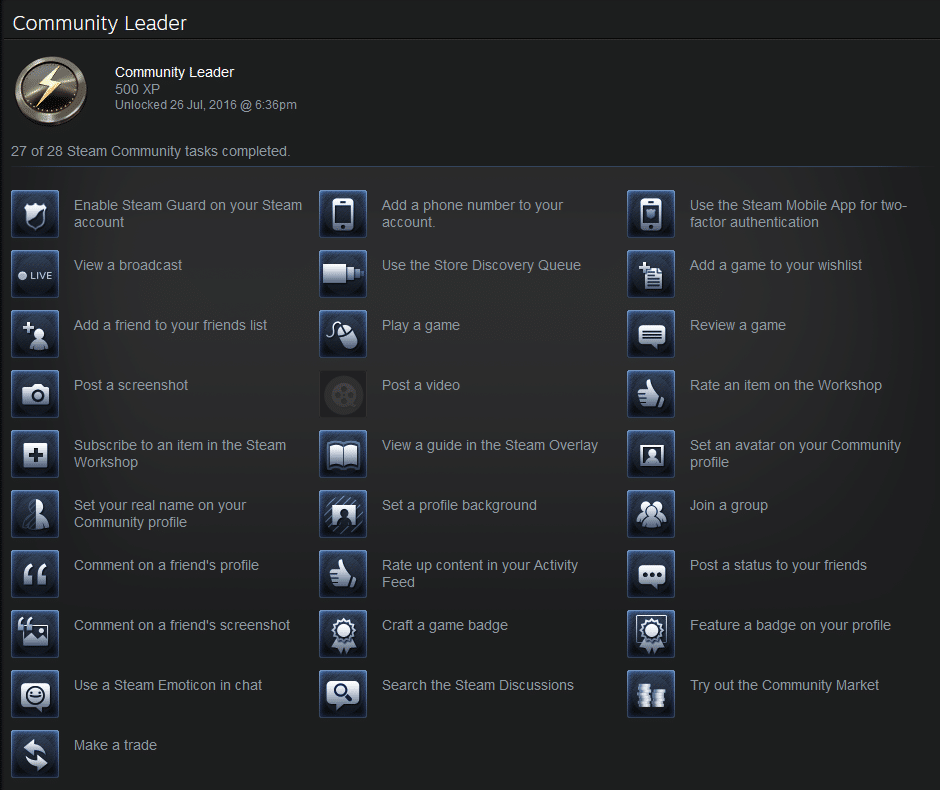 If you completed this badge, you can check if you have any badges from games left that you play on steam. You can find your uncompleted and completed badges here. You can complete those badges by clicking on one set of trading cards and buying the missing trading cards. If you have all trading cards of one set you can craft the badge for the game, this will give you 100XP and will make you level up, if you are Level 9 or below.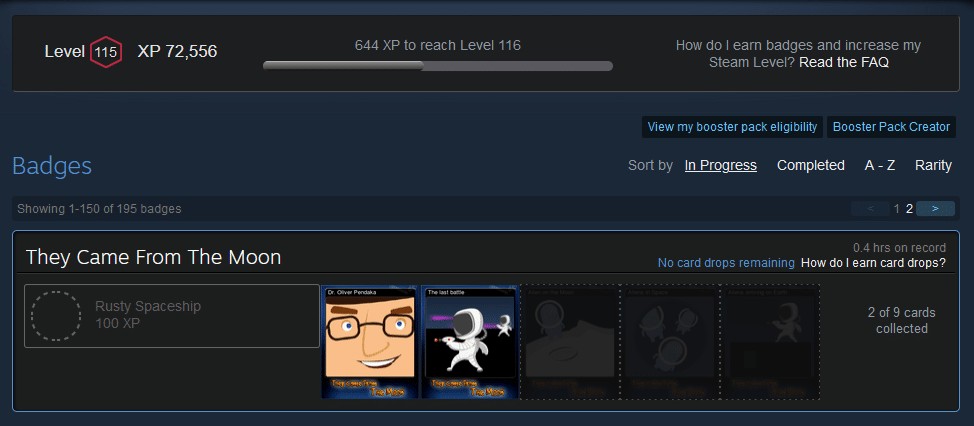 Trading cards usually cost 0,05$ or a little bit more/less, some sets have 5 or 6 cards, so you can get 100XP for around 0,30$ to 0,36$ if you buy cards of the steam market. When clicking on the badge, you can also see if someone of your friends owns a trading card that you need, and ask them if they trade you the card. For every game that you own, you will receive trading cards when playing the game, you can get up to 5 cards from one game, you can see it on the badge page. If it says "No card drops remaining" you are going to get no more cards for playing that game.

You will also level up by doing nothing, every year you will get 50XP for a year of service on steam. This is not much but it can help you when you are a low Steam Level.

The last method to get some more trading cards (more steam level ups) is playing CS:GO. When playing CS:GO you will sometimes get items dropped to you, like cases and weapon skins. You can look for people that have cards that you need and trade their cards for your CS:GO items. Most people like CS:GO skins and cases more than trading cards, so you can trade one trading card for one CS:GO case most of the time. This will help you complete your card sets and craft your badges to level up for free on steam.
How to Level Up fast on Steam
At some point, there is just no way to keep leveling up for free. At this point you can either stop and wait years to get more Years of Service XP or you just start using level up bots and pay for leveling up.
Most bots accept Team Fortress 2 Keys for leveling up and you need to find them on Steam and add them. They will trade you trading card sets for your TF2 keys. They are safe to use and you will level up really fast if you use them. However, the good ones are quiet hard to find and some of them are really really expensive. To avoid this, there is a website called SteamLevels.com. On SteamLevels you can buy full trading card sets for money. You can pay using CS:GO skins, TF2 Keys, PayPal or Bitcoin. For example for you to get from Level 0 to Level 100 it would cost 112€. PayPal and Bitcoin has this cheap price, it would cost 160€ in CS:GO skins.