CSGOFast.com

Use our affiliate code 5VO75A-CSGO to get 1$ for free
CSGOFast – The gambling site with over 10 games
CSGOFast is a very old CS2 gambling site that has lots of games. The site offers you all the classic games like Roulette, Jackpot, Crash and also Cases, but it also offers more unusual games like Tower, Slots and Baccarat. The skin store of CSGOFast is huge and actually you don't have to wait for your skins 8 days like on CSGOEmpire, you get your skins around 15 minutes after you bought the skin in the store. The store has everything from high price knives down to 10$ skins like the M4A1-S Decimator Factory New. We would suggest you play Jackpot, Roulette, Craft and Crash if you want to make profit on CSGOFast. The other games are in really strong favour towards the site and you will lose money quicker on the other games. Read everything below to find out more about CSGOFast.

The CSGOFast skin store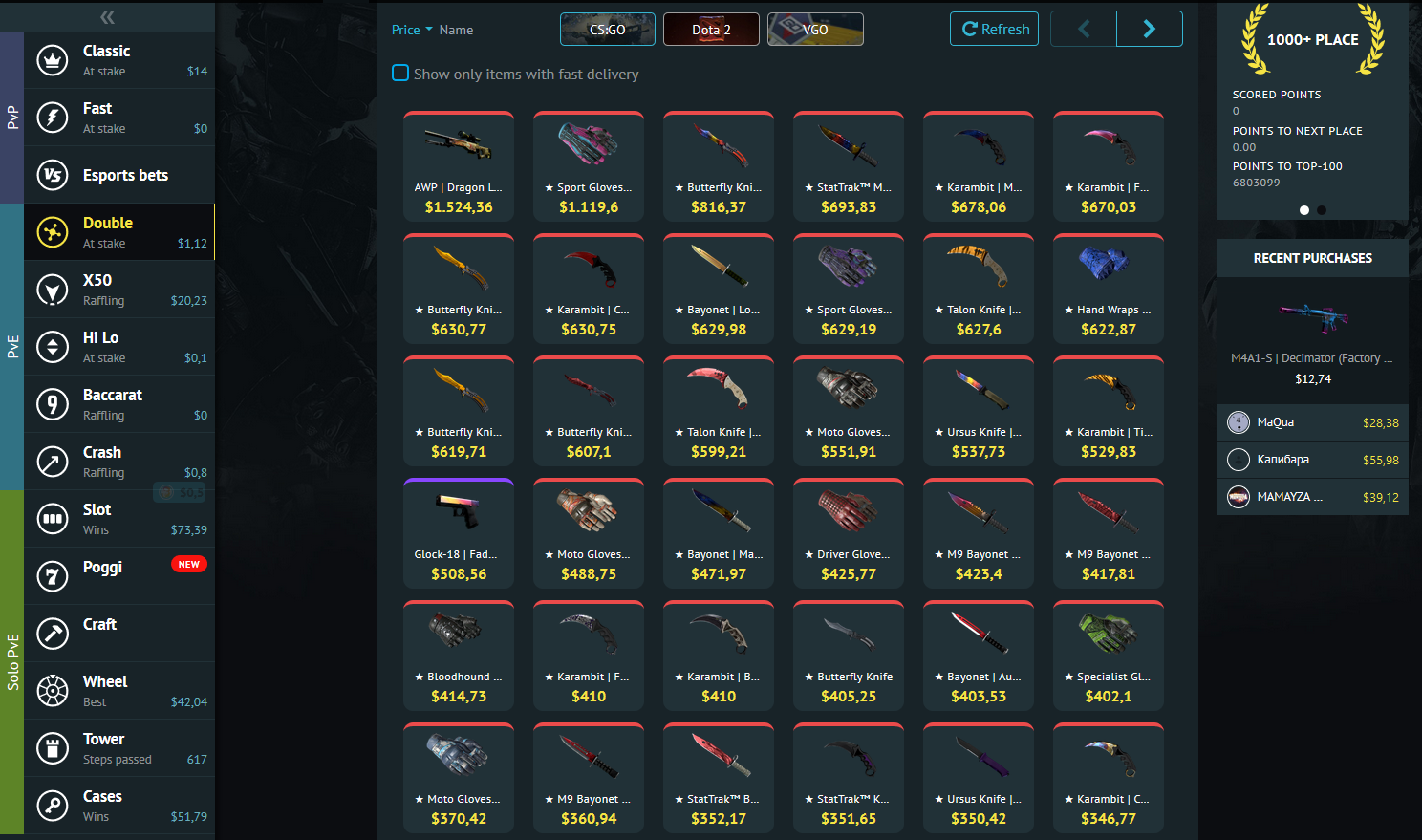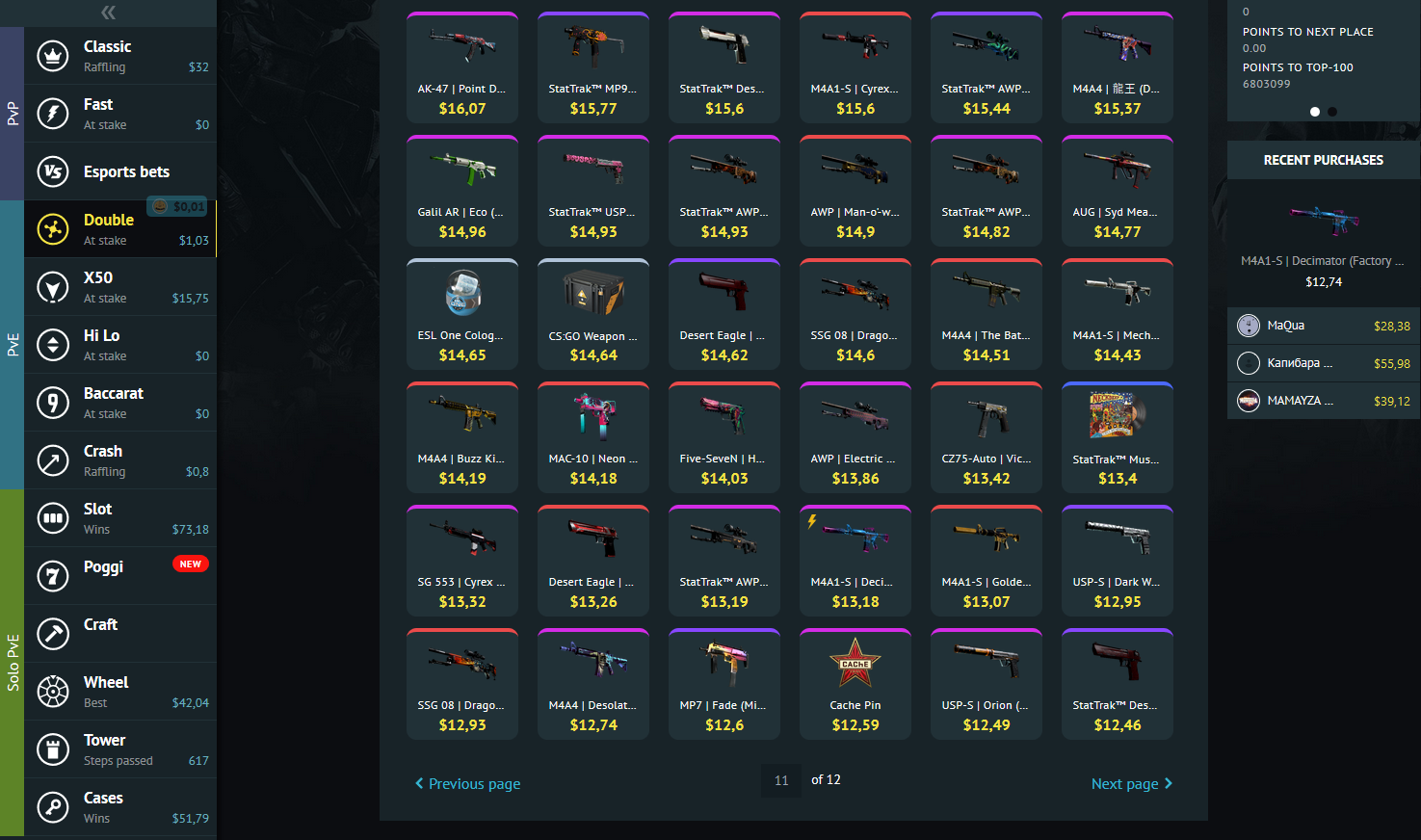 Games on CSGOFast.com
We are quickly going to try to explain the different games to you:

"Classic" is a normal Jackpot game, you can bet with coins or you can bet with skins, CSGOFast has a big playerbase so there will always be someone that plays Jackpot or "Classic". One Jackpot can have up to 50 items and a winner will be rolled every 35 seconds as long as there are at least 2 players playing against each other. If you want to bet, your total bet has to be worth at least 2.5$ and you can only bet up to 10 items. You can also bet coins if you want or you can use skins from the store of the site.

"Esports bets" is regular match betting, you can bet on professional CS2 matches and if you bet on one team and that team wins, you will get your coins multiplied with the odds. So for example if you bet on a CS2 team that has 1.7 odds and you bet 100 coins, you will get 170 coins if they win.

"X50" is a new kind of roulette with different multipliers. It basically is the same gamemode that made CSGO500 popular. The multipliers are *2, *3, *5 and *50 the colors are blue (*2), red (*3), green (*5) and yellow (*50). This gamemode is actually lots of fun and really good if you want to make profit on CSGOFast.

"Baccarat" is a card game and I don't really understand how it works, it looks like fun and somewhat like casino roulette or blackjack. I wouldn't suggest you to play it, only play it if you understand how it works, otherwise you are going to lose coins. You can find the rules here: Baccarat Rules

"Slot" is a like a regular slot machine but with CS2 themed icons so they highest payout multiplier that you can get is the AWP Dragon Lore 5 times which will give you *5000 for your bet so you can bet 1$ and get 5000$ if you hit the AWP Dragon Lore in every row (5 rows). This game can be really addicting but you shouldn't play it because this game makes you lose money quick.

"Craft" is basically like upgrading your coins to CS2 skins. For example if you want to have a skin that is worth 1000 (10$) coins and you put in 600 (6$) coins you are going to have a 60% chance to get your skin and a 40% chance to lose your bet. This gamemode is actually really fun and sometimes you get lucky and get some nice profit.

"Tower" is a game where you bet your way up a tower. The higher you get, the higher your profit is going to be. If you don't press the "Take" button before crashing, you are losing all of your money. You can select one of three fields, one field will make you lose, two fields will get you higher. This game is fun, but you are most likely going to lose money quick so don't play it if you are looking for profit.

"Fast" is a game like Jackpot, but with low pots and only 3 players. You can bet between 1$ and 10$ and 2 other players have to join you before a winner is going to get rolled. The animation of this game is really nice, if it rolls your profile picture twice, you won the game. This gamemode is actually pretty fun and you can get nice profit because you play against other players and not against the site.

"Double" is regular CS2 roulette, so you can bet on red, black and green and if you get it right your coins will get multiplied with 2 (red or black) or with 14 (green). Roulette is really good for getting profit on CSGOFast, just use a betting system that works for you and stop playing after getting profit. We really recommend this gamemode for playing on CSGOFast!

"Hi Lo" is betting on cards. A card will get revealed and you can bet on things like Black or Red, High or Low and many other things. This game mode is kind of like roulette when it comes to the odds and it is really good if you want to use a mathematical betting system. I would suggest you to only bet on red or black, if you win this gives *2 and you have like a 47% chance to get it right.

"Poggi" is a weird new gamemode, it kind of feels like a bad browsergame but you lose money while playing it. It really is horrible and hard to understand so we would suggest you to not play this game.

"Wheel" is actually fun: You can spin the wheel for only 1$ and you can get some nice skins out of it. The wheel is full of random CS2 skins or random amounts of coins and you can get anything. If you want to make profit, you shouldn't play this game but if you just want to have fun getting CS2 skins, this game is really good.

"Cases" is a small Case Opening subpage where you can open cases. You can open cases for 1,5$ to 15$ and they are all pretty good, because they contain decent looking skins for CS2 and feel fair. The design on the cases is a little bit like on the popular case opening site Farmskins.